Farrington can supply a full range of dock bumpers for bumper protection of vehicles and loading bay areas. We can also supply backing plates and other accessories to minimise long term wear and tear problems with your dock bumpers.
Types of loading dock bumper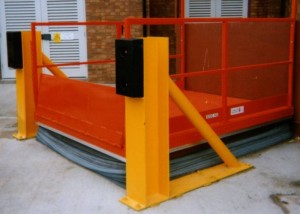 Standard black rubber dock bumpers remain popular but there are also harder wearing options like polyurethane dock bumpers which can withstand high volume use and last many times longer. We can advise on and supply a full range of shapes and sizes to suit all types of vehicle loading bays. We can also supply sliding backing plates to allow travel on the bumper as the vehicle's height is adjusted up or down during loading and unloading by suspension or loading weight.
Replacement dock bumpers
As dock loading bumpers are subject to wear and tear, it's likely you'll need to replace them at some point. We can help ensure you are supplied with suitable like-for-like replacement dock bumpers to provide all important loading bay protection. Please ask us about our wall plates too if you see any signs of damage. Fixing directly the wall is usually fine but if the wall itself becomes damaged then a backing plate is recommended.