The Farrington Dock Lift is a freestanding goods only loading bay platform hoist. It doesn't need a pit so it's extremely cost effective to buy and easy to maintain. We also supply a wide range of scissor lifts, goods lifts and lifting platforms. If you're loading it, we can lift it!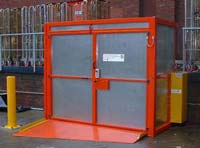 Two level dock lift
The dock lift is a two level lift suitable for moving goods between floors with a height difference of up to 1500mm. The lifting capacity is 1,500kg. When the platform is lowered the dock lift is extremely compact with a platform height of just 70mm with a 700mm long floor ramp. This minimises time and effort spent loading.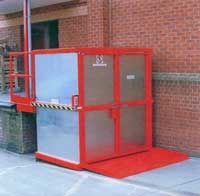 The dock lift has been designed with safety in mind as it is totally enclosed on all four sides minimising the risk of falls and breakages. It incorporates electro-mechanically interlocked gates at both landings to give a through-car arrangement. The lift is operated using 'deadman' push buttons for simplicity and safety.
Please just contact us for more information or visit the home page for details of more vehicle loading bay lifting equipment.