Farrington design, supply, install and maintain a comprehensive range of platform lifts to streamline and improve all your manual handling requirements. If you can't find what you're looking for below then please check our dock-interlevel lifts and goods only lifts or please just contact us if you require any further assistance.
Platform scissor lifts
Farrington Industries supply a wide range of platform lifts, accessories and manual handling equipment. All our solutions are manufactured in accordance with BS EN1570. Our standard platform lift capacities range from 500 kg to 20,000 kg. Non-standard platform lift sizes are also available, so we can tailor a product for most applications. All our scissor lifts are supplied with a test certificate, certificate of conformity (CE) and an operation and maintenance manual.
Hydraulically powered loading bay scissor lifts are ideal for vehicle loading bay areas and warehouses where safety and reliability is essential. Their heavy-duty construction and capability to deploy as a mobile or fixed lifting solution makes them extremely versatile.
The JE-MA lifting tables supplied by Farrington Industries are manufactured in the EU and are renowned for their practical design, reliable construction and ease of use.
Single scissor lifting tables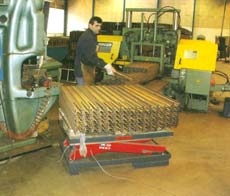 Single scissor lifts are suitable for many applications. We supply them in a wide range of platform lengths (from 900mm to 4000mm), travel heights (from 550 to 2300mm) and lifting capacities. The scissor lift can be supplied quickly in lacquered, galvanised or stainless finish.
Vertical double scissor lifts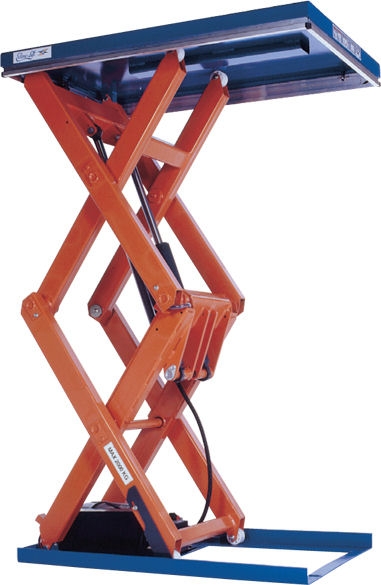 Vertical double scissor lifts are the sensible solution when you need larger travel heights. Our vertical double scissor lifts typically offer twice the vertical lift of single scissor lifts. We supply vertical double scissor lifts in a wide range of platform lengths, travel heights (up to 4600mm) and lifting capacities (up to 3000kg).
The lifting arms are all made of profile steel to ensure lateral stability. This is particularly important where the lifts will be installed in a shaft or other confined area. Quality construction of the vertical scissor lift includes lacquered, galvanized or stainless design and adjustable lowering velocity.
Horizontal double scissor lifts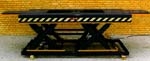 These specialist lifts offer enhanced stability when lifting very long or very heavy loads. The horizontal double scissor lifts contain two synchronised scissors and are available in a wide range of platform lengths, travel heights and lifting capacities up to 16000kg.
Low profile and passenger table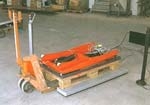 By using a super low lifting table it is no longer necessary to install the lifting table into a pit. The low height of the lifting table means that the load can be placed directly with a pallet lifter, either via the enclosed approach ramp or by driving between the forks of the table (U-table). The passenger table ensures that employees are at the correct working height. Where lifting tables traditionally are used for adjusting a machine or load height, the passenger table gives a further alternative to achieving the correct working height
For further information, advice or a competitive quotation please contact us.