Protection Curbs & Bollards
Farrington can also help with the design and installation of a full range of ancillary loading bay equipment like protection curbs and safety bollards. These features are important for both operator health and safety and loading bay productivity making them important considerations within the overall design.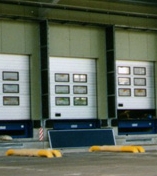 Alignment & protection curbs
Alignment curbs are designed to help improve vehicle loading by ensuring straight lorry alignment with the loading bay and help to prevent accidental damage. They are usually made from thick walled mild steel tube and can be installed below ground or surface mounted.

Protection post bollards
Farrington can also design, supply and install a full range of bollards, posts and protection systems to improve the efficiency of the loading bay, to help ensure operator safety and to minimise the risks of expensive accidental damage to loading bays or buildings from lorries accessing busy loading bays.
Please contact us at any time to discuss your next project or for further information.