Farrington Industries are the UK and Ireland distributor for the Softstop® system of energy absorbing protection bollards. Softstop® is protected by European Patent Number 2267225.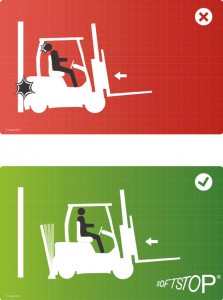 What are Softstop® Energy Absorbing Bollards?
Softstop® is an energy absorbing protection system which protects vehicles, objects, persons or structures against damage caused by collision or impact. Softstop gives slightly on impact, absorbing the energy of the collision.
The simple system consists of one or more bases on which tubular bollards or brackets can be mounted. Softstop® limits damage and possible personal injury to an absolute minimum, thanks to its triple protection:
1.  Protection of drivers and their vehicles: Drivers who collide with Softstop® have a "soft landing". The chances of driver injury or vehicle damage are reduced because the protection system gently gives.
2.  Protection of the object or structure: Softstop® is installed at a certain distance from the object or structure that needs to be protected and only moves a limited amount. As a result, Softstop® never comes in contact with the protected object, so the chances of damaging it are minimized. Protection can be guaranteed for objects, vehicles, building structures and personnel.
3. Protection of the actual Softstop® system: Softstop® continues to absorb impact, time after time. In the unlikely event the object needing protection has been hit and damaged, the damage is always visible. When using plastic protection systems, damage to the protection system or the object is often not visible after impact. These systems weaken with each impact. This means they have to be inspected more frequently and replaced faster. But Softstop® will not be damaged by a collision and continues to absorb shocks time after time
Please download the Softstop® brochure here.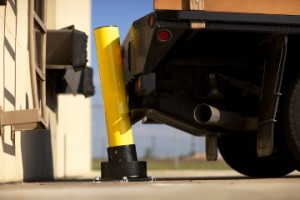 Why choose Softstop®?
Because Softstop® reduces your costs !
A. Softstop® gives slightly, so braking distances are increased and the impact of a collision is reduced so the risk of work-related injuries decreases.
B. Labour-related injuries and stoppages are expensive. Softstop® helps you save money by reducing the risk of accidents and cost of damage.
C. Softstop® is the only protection system that offers you calculated safety in function of mass and velocity. Softstop® resistance and performance has been fully tested by TÜV Rheinland-TNO.
D. Softstop® is manufactured from tough cast iron and steel. Unlike plastic these materials are neither combustible nor flammable. Softstop® retains its performance under extreme TEMPERATURES (from-40°C to +70°C). This is an important  in unheated industrial buildings or outdoors, most plastics become brittle at -7°C.
How does Softstop® work?
The dynamic energy-absorbing protection system consists of a base on which a protective pole, post or similar can be attached. During a collision, the kinetic energy of the impact is progressively absorbed as the post tilts, crushing an elastomeric sleeve within the base. The post is able to
tilt from its vertical position to an angle of 20° before it locks within the base. After the impact the post will return back to its vertical position, ready to perform once again.
Softstop® is versatile and modular…
Easy Installation – Softstop® is easy to mount with concrete screws.
Instantly operational – concrete screws do not require chemical anchors. Once installed, Softstop® is immediately ready for use.
Wide range of applications – Softstop® is successfully used in all industrial environments.
Modular and expandable – Softstop® elbows, tees and cross joints make it easy to configure U-shaped protection barriers, safety railings, protection buffers, fences or  guard rails.
Inspection without disassembly – All Softstop® parts are visible, so no disassembly is necessary for inspection.